An Italian Adventurer's Journal
"God is in the details"
I woke up early and found myself sitting at the barren desk in my room—staring out the window over the windswept vineyard. I needed to write and, yet, like the desk and the gale-force wind outside, my mind was a simultaneous swirl of everything and nothing.
With my cameras in hand, I decided to head downstairs to record some of the life around here.
I found myself alone in the Casale—everyone was either still asleep or had not ventured out and neither Anna nor Franco had arrived yet. The house was silent, save for the sound of the swirling and howling wind outside. In these moments of quiet, only being influenced by nature, I was reminded of the famous quote by architecture guru Mies van der Rohe—"God is in the details."
So I went looking for Mies' "God," the beauty in a simple, yet complete, detail. Here are some images and video of my discoveries~
[Subscribers, please click HERE to view the video in your e-mail.]

The house had begun to stir with life once I got back inside. Anna and Franco were in the kitchen, I could hear the other ladies puttering around, too.
"Buongiorno, buongiorno! Dormito bene?" –"Good morning, good morning! Did you sleep well?"– I asked Anna, the first person I encountered.
"Sì, sì, sì. E lei?" –"Yes, yes, yes. And you?"
"Sì, sì, sì. Ho dormito bene," I replied, without feeling the need to tell her that I had woken up earlier than I would have liked and that I still felt a little of out of sorts from my travels.
Anna was pulling last night's yogurt cake out of the cold oven—it's overnight storage place. Like Nonna, the grandmother of the Italian family I lived with in Viterbo (the basis for my book), Anna does not put all leftovers in an airtight container or in the refrigerator. In Italy, you only need to put a paper towel over something to "seal" in the freshness—or so it seems. I think people doubt me when I tell them about this, so here's the proof!
We chatted about the yogurt cake. It is so simple and one of my favorites. Last night, Anna did not sprinkle the customary powdered sugar over the top of the cake; however, she was doing that this morning. The leftover cake was going to be served as a part of our breakfast.
I told Anna how much I liked her cake and that Nonna, down in Viterbo, would make the same cake, but put sliced apple and pear in the cake. Anna agreed that would be good. [Note: Nonna's recipe for Yogurt Cake with Apple and Pear from my book is listed at the bottom of this post.] I know that Anna's recipe would be almost, if not, truly identical. Regardless of region, some things in Italy are the same nationwide—as if it is a part of an Italian casalinga –housewife's– cooking DNA.
Anna and I have already struck up a quick friendship. The kitchen is the most comfortable spot in the house for me and I felt a kinship with Anna within five minutes of meeting her last night. I cannot wait to see what she prepares for us and what I can learn from her—my newfound kitchen friend.
Today's first excursion was with DaVinci's agronomist Andrea Meini. He met us on the upper terrace by the chapel and gave us a tour of the vineyard as we walked from the Casale's terrace down through the vineyard to the Cantine (the wine "factory," if you will) and the Enoteca (the wine shop) where we will be having our first wine tasting class.
It is Andrea's job to meet with all of DaVinci's 200+ growers to keep a check on the progress of their vineyards to ensure the highest quality flavored grape is produced. For a long time growers were paid by the kilo for their harvest, which encouraged the growers to keep as much fruit on the vines for as long as possible—ensuring a heavy and high fruit yield leading to more money in their pockets.
Over the past 20 years, the trend has been to pay the growers not on weight of the yield but by the quality of the yield. Meaning, growers now prune back their vines, reducing the amount of fruit produced and forcing the vines to put all of their energy into a smaller yield. This produces grapes with a much higher quality flavor content. A higher quality grape produces a higher quality wine.
Today's Chianti is not the Chianti of 20 years ago. Today, Chianti is growing up. It is gaining an ever-increasing place at the wine table. And for Italians in this region of Italy, it is a way of preserving and insuring that this wine does not become a thing of the past.
Also, a vineyard is not as old as, say, an olive tree grove. I somehow thought that vineyards dated back hundreds and hundreds of years, but they don't. There are olive trees here on the grounds of the Casale that date back for several hundred years, if not longer. Grapevines, however, have a relatively short life span in comparison to olive trees. Vineyards need to be re-planted every 50 to 70 years.
I asked Andrea why roses were planted at the ends of the rows. I expected to get an answer about how it was a blessing from the Virgin Mary or in honor of her—one of those antiquated Catholic customs that an Italian might hang onto when it comes to growing something as important as grapes or olives.

[Subscribers, please click HERE to watch the video in your e-mail.]
I was wrong. Roses are sensitive plants and they are planted in the vineyard as an early warning sign as to the health of the vineyard. A rose will suffer from drought, excessive moisture, mold, and blight—all the things that affect the growing grapevine—before the grapevine suffers it. Consider the vineyard rose as the "canary in the coalmine."
Andrea walked us through a display of trellis methods—a history of viticulture in Italy, if you will. In one of the trellises, I could see Mies van der Rohe's "detail theory" in action … the combination of stone, vine, twig and grape.
We said our goodbyes to Andrea as he left us at the Enoteca, where Filippo Volpi was waiting on us.
The most striking thing about the Enoteca is that a customer could come in from off of the street with their own wine containers and get them filled up with DaVinci wine. It was a wine filling station beyond a bottled wine shop. In fact, one of the guys who was working there said that some people probably buy their wine here and then go home to serve it to their friends as their personal homegrown wine. Nice!
All I have to say is — "Fill 'er up!"
Another interesting thing is that DaVinci wines in Italy have different labels. It is the same exact wine in the bottle, but the label looks different. Personally, I am rather fond of the Italian labels, but that is just me DaVinci. Ha!
The wine tasting with Filippo was great. He is such a big personality—fun, very informative, knowledgeable and really passionate about his work. I asked a million questions and he helped guide me through what was really my first wine tasting where I felt that I had permission to really find out about wine.
I am going to include video clips of the tasting so you can really hear Filippo's explanation, but here is a short list of things I learned:
1. Italian wines contain sulfides, just like their American cousins. I hate to burst anyone's bubble that believes they have been to Italy, consumed Italian wines to their heart's content and didn't get a headache or stomachache because Italian wines do not have sulfides in them. Newsflash—the wine you drink in Italy contains sulfides. Yes. Let me say it again, wine in Italy has sulfides. The wine in the Italian bottle is the same wine that is in the American bottle. Sulfides help keep wine from turning into vinegar. Remove the sulfides from wine and you will get balsamico!
2. The reason you smell a cork when opening a wine bottle is to see if the cork has gone bad, which will in turn, cause the wine to go bad. The problem of the cork is a winemaker's millstone around his neck. Roughly 2% of all wine suffers the damage of a cork going bad. Even modern corks, which are a blend of natural cork and resin, have the 2% failure rate. Modern screw caps help reduce that failure rate, but there is a perception that screw caps are a sign of a cheap wine. DaVinci changed out a vintage to screw caps several years back and their sales of that vintage dropped to a fifth of what they were the year before or after. A cork gone bad will have a moldy or musty smell to it. This is yet again another "God is in the details" moment … besides the cork's functionality in stopping the bottle and preserving the wine, there is something so beautiful about it. Aren't you fascinated to see, smell and touch the cork when it comes out of the bottle?
3. Young wines, like a Pinot Grigio and a Chianti, should be consumed while they are young. They are "designed" to have a more fruity and simple taste. They are not wines to be collected to see how well they age in the bottle. Chianti Riserva is designed a little more along the lines of a "maturing" wine and Brunello di Montalcino is definitely designed to be consumed when mature … only being allowed to be sold 5 years after being placed in the bottle. A young red wine will have a more ruby color, while a more mature red wine will have a mellowed orange or rust-colored hue. Same is true for a white wine. A young white wine is yellow and a more mature white is a dark golden color.
4. Drink what you like and eat what you like. As I mentioned earlier, I am not a big fan of white wine, though I will knock you down for a bottle of prosecco (an Italian sparkling white). Yes, this means that I drink red wine with fish and chicken. Call me crazy or unrefined, but I don't care. And the word from Filippo? "Drink what you like!" If you like white wine, order it when you are eating a steak. Stand up, push the wine snobs aside and make yourself happy. The truth is that unless you plan to make wine collecting a hobby, you should drink what you like. The more you investigate wine and the more "into it" you become, your tastes will shift accordingly, but until then, don't stop yourself from enjoying your favorite vino with whatever you are eating!
SPECIAL ~ [CLICK HERE to view the "Wine Tasting with Filippo" post where you will find seven videos covering Filippo's discussion on the wine tasting process, the cork, Chianti, Super Tuscan wines and much much more…]
Nothing like starting off the day with a wine tasting—it made me a little hungry for lunch and in need of a little sobering up. I didn't have to drink all of the wine that was poured at the tasting, but it was too good to pass up! Thank goodness we have a driver~
We all poured into the van and headed off to "Adriano's," a restaurant in the nearby village of Cerreto. What makes this restaurant a favorite with the locals (hint, hint—"favorite with the locals" is the type of place you should always try to eat at while in Italy), is their Bistecca Fiorentina—a large cut of steak that is sold by weight and grilled to medium-rare perfection. I think of this steak as the Italian Fred Flintstone steak.
[Subscribers, please click HERE to view the video in your e-mail.]
Usually grilled with olive oil, garlic and rosemary over some type of aromatic wood, it is salted after cooking. When you order the bistecca, your waiter will slice it off of the bone for you and then place the bone on your plate, too. Yes, you might feel your end of the table tilt over like the Fred Flintstone car and crash to the side, but this is a red meat lover's dream. And you are more than welcome to pick up the bone with your hands and have at it!
Today is a day that will not end. I have a feeling that all of our days are going to be like this.
Once we returned to the Casale, we had a little break before our evening cooking class with Anna. We are going to be making pizzas from scratch and cooking them in the wood-fired oven on the back patio. FANTASTICO! We are also going to be making the Italian dessert classic Tirasmisù.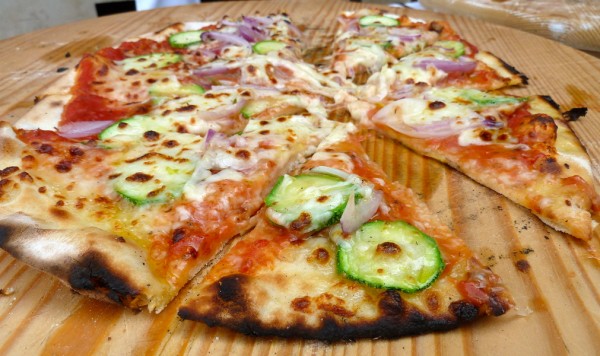 Below is a little "pizza making" video, which goes from crust to finished pie. And along the way, we made more than something to eat—we made friendships, which will feed the soul!
[Subscribers, please click HERE to view this pizza making video from your e-mail.]
Along the way to rolling out my dough and making my pizza, I took some extra footage and here is also what happened when Anna and Franco discovered that I really like –"Mi piace molto"– Nutella, the infamous Italian hazelnut and chocolate spread. Below, I hope you'll enjoy this video, too.
[Subscribers, please click HERE to view this video from your e-mail.]
That was "Day 2"—a huge day with lots of great info, great wine, great food and, most importantly—great "life."
Today, "God was in the details" and those personal details were buonissimi! – incredibly delicious!
Buon Appetito~
Mark
*And here is the Yogurt Cake recipe I promised you~
Yogurt Cake with Apple and Pear

Coppa, Coppa, Coppa
Nonna used a yogurt container as her measuring "coppa," hence her name for the recipe "Coppa, Coppa, Coppa." I have included her "coppa" measurements along with standard American 8-ounce cup measurements. 
1 teaspoon unsalted butter
3 tablespoons plain dried bread crumbs
1 6-ounce (single serving-sized) container of yogurt, mixed berry flavor or flavor of your choice
2 large eggs
1 1/2 yogurt containers sugar (or 1 cup sugar)
1 yogurt container sunflower oil (or ¾ cup sunflower oil—vegetable oil may be substituted)
1½ teaspoons vanilla extract
4 yogurt containers all-purpose flour (or 2¾ cups flour)
1 tablespoon baking powder
1/2 teaspoon salt
1 cup peeled, diced tart apple (such as a Granny Smith)
1 cup peeled, diced pear
Powdered sugar for garnish
Preheat oven to 350 degrees.
Prepare a nonstick 10-inch springform pan with the butter and plain bread crumbs. Set aside.
In a large bowl, mix together the yogurt, eggs, sugar, oil and vanilla until well combined. Set aside.
In a medium bowl, mix together the flour, baking powder and salt.
In batches, add a third of the dry mixture to the wet mixture, mixing until well combined between each addition. Next, stir in the apple and pear until mixed throughout. Pour into the prepared springform pan and bake for 15 minutes, then reduce the heat to 300 degrees and bake for an additional 40 to 45 minutes, until the top is golden brown and a toothpick inserted in the center comes out clean. Cool completely in the pan on a wire rack.
To serve, remove from the pan, dust with powdered sugar and place on a serving plate.
This serves 8 to 10.
View more of Mark's

Italian Adventurer's Journal

entries as part of DaVinci Wine's "2012 Storyteller Experience" ~