"Eee, Iii, Eee, Iii, Oooo … mozzarella!"
"Hi …Yes?" answering the phone in an impatient rush.
"Umm, hello. Yes. Umm, is this the Pizza Farm?"
"Yes."
"Great. I'd like to come over tonight but I need directions."
"That's okay, we're busy enough. You'll just have to find us."
Click.
And with that, the phone disconnected and thus began the lore, and the lure, of the "Pizza Farm."
When I heard this story from friends of mine four years ago, I couldn't believe it. The audacity to turn away a potential customer—I mean, this is America. Money is everything, right?
"That's okay, we're busy enough. You'll just have to find us."
With that kind of gumption, hell—I couldn't wait to go. I was hooked! Who are these people that say, "Thanks, but no thanks?" And why does that make them all the more fascinating? Are these people crazy—or just crazy like a fox?
Last week I finally made the trip out into the farmland of northwestern Wisconsin to see what this "Pizza Farm" was all about. It is not an easy thing to find, mostly because the actual name of the "Pizza Farm" is "A to Z Produce and Bakery."
Curving around forested bends as you make your way uphill from the Mississippi River and through the one-intersection "town" of Stockholm, Wisconsin, you finally reach farm country and corn. Acres of corn—acres and acres of corn. "There's pizza out here?" I think to myself as I turned off of paved roadway onto gravel. And then, lo and behold, there were cars, a lot of cars—acres and acres of cars parked along the gravel road and in fields. Here, just past the sweet and bucolic Saint Sophia's Liberal Catholic Church, lies the "Pizza Farm."
I had been given the "411" on the Pizza Farm before my arrival—
1st—you must bring everything: plates, flatware, drinks, chairs or blankets. The only thing that is provided is the pizza you buy and the farm's grounds for you to enjoy.
2nd—what you bring in, you must take away—and that includes the pizza box your pizza is served in. Think of it as a mini "Burning Man." Your presence on the farm leaves no impact on the farm. Smart, I think.
3rd—it is CASH ONLY, so leave your debit/credit cards at home.
Of course, they have their own info list posted on the barn—
Walking up the driveway you immediately get a sense that this is a place which welcomes a wide swath of people from every walk of society—from motorcycle clubs decked out in their leather riding gear with their "ink" proudly on display, to high school and college students, to families with young children, to the retired set. As in Italy, everyone loves pizza!
The "Pizza Farm" has a vibe. There is this groovy air of a laidback community, which comes from the eclectic mix of people and from the staff itself. 
Walk up to the chalkboard menu and you'll see that the farm's produce factors heavily into each pie. Bearded, with fashionable frameless eyeglasses, the college-aged guy taking the orders had that organic, vegan "dude" kind of relaxed "Fast Times at Ridgemont High" energy about him. For a second, I thought I was in California and not Wisconsin—
"All right dude, your pizza number is number 270 and it'll be about 90 minutes. Enjoy!" he said, with a kind of "ha-ha, ha" chuckle afterward. I wanted to say, "Right on man. Narly!" but I think that would have gotten no response from this guy who wasn't even conceived when Sean Penn was falling out of the van in a cloud of smoke. But I digress…
The pizzas are made to order, so this is not a quick take-out kind of place. You come here for the "event" of pizza.
Walk past the menu and you go inside the farm's central hub where all the action is. Two wood-fired brick ovens glow under the vaulted ceilings of the open-air, almost loge- or pavilion-like, barn, which tonight had all of its sliding doors pulled wide open. It was hot outside, pushing 95-degrees and I can only imagine how hot it was next to those two ovens.
*A helpful hint: Due to the huge volume of pizzas that have to be made and only two ovens, park your car, walk in, order your pizza and then go back to your car to find a closer parking space, gather your things, and then haul them onto the grounds to claim your piece of farmland dining.    
Once you have settled in, unpacked (some people bring tables and appetizers, salads, coolers with all kinds of adult beverages), and gotten your bearings, you now have free reign of the farm. Wander out into the fields to inspect the produce, go visit a cow or two, play Frisbee with a friend—though who wants to spill a glass a chardonnay?
I walked around the corner of the tractor barn in time to hear a gentleman with a thick German accent postulating on the laws of physics, or some such scientific theory, to a large group of colleagues seated around a table draped with a cloth and strewn with empty wine bottles, corks, glasses, salad bowls, and the remnants of six or seven empty pizza boxes. "The "Pizza Farm" attracts them all!" I thought as I wandered out into the pasture with my bottle of water in hand.  
Every now and then I would go back to the barn to check on what pizza number was up and to watch the well-oiled machine that the "Pizza Farm" staff has become after doing this for the past 14 years.
While I was hanging out by the ovens, I got a chance to speak with Robbi, one of the farm's owners and the woman in control of the ovens. Dressed simply in a blue t-shirt, a prairie skirt and apron, she was great fun to chat with, though she was slammed with baking pizzas.
"We can turn out a pizza every minute—or that is the goal anyway," she said, as she transferred a pizza from the first oven to the second oven, before removing a finished pizza from oven #2 to be boxed, cut and served.
Just then, a tall gentleman made a purposeful entrance from the kitchen with pizza peel in hand, loaded with a raw pie, and made a beeline for oven #1. The process seemed to be: raw pizzas went into oven #1 (which held two at a time) and then, when done to a certain point, they were transferred to oven #2 to finish. It really seemed to be that when a finished one was taken out, a new pizza went in—with lots of transferring between oven #1 and #2 in between.
I was exhausted just watching!
"How did you get the idea of the 'Pizza Farm'?" I asked.
"We were taking a trip through Iowa …"
"Iowa?" I interjected.
"Yes, Iowa," Robbi said chuckling, "We found these ovens and we were trying to figure out a way for the farm to make enough money to sustain itself. Plus, we knew no one was doing sour dough here in this part of Wisconsin."
I thought, "Yeah, the middle of BFE, Wisconsin," but I didn't say that out loud. I think Robbi would have laughed, but given the fact that she had been at the ovens for over 2.5 hours and that it was probably 130-degrees where she was standing—I decided to keep my "smart" comments to myself. 
Robbi and I talked about food—about how I noticed that they used slices of mozzarella (as the Italians do) instead of putting a sheet of grated cheese (as we Americans usually do), about how impressed I was with the fact that she was doing the pizzas "right" by having the crust a bit charred. That really got a response from her!
"Thank you for saying that. Some people think the pizzas are burnt, but when you do wood-fired pizza, some of the crust is going to get a little charred," she said.
"Of course it is. That is the best part! It's SO Italian" I chimed in.
There was a good amount of head nodding of agreement between the two of us—as if I was a well-seasoned veteran at the task and her dear old friend.
"My daughter studied in France," Robbi continued, as she used a long-handled brush to scrape the ash off the brick surface of the ovens as each new pizza was added or transferred on, "…but she really enjoyed Italy the most. That is her heritage and it was wild that she connected so strongly with it. I mean, she liked France a lot, but Italy felt like home to her."  
At that point, Robbi was preaching to the choir!
We talked on a bit more before the tall guy came out of the kitchen announcing that the pizza for "Mark L." was going in.
"That's me!" I said, a little too eager and a little too loud.
He and Robbi chuckled.
Okay, so this kind of thing thrills me! I get like that sometimes.
Robbi and I chatted more as I watched her take my pizza from raw to slightly charred, Italian perfection—all in about 4 minutes, maybe 5, if that.
"Grazie, Robbi!"
"You're welcome. And thanks for the great chat!" as she turned away to scrape off the ash and transfer the pizzas before the next raw one as whisked out of the kitchen heading for oven #1.
The pizza was perfect! Half "Italian Garden" and half "Margherita," it was delicious. The dough was slightly sweet, parts of the crust nicely charred, the vegetables "al dente" tender, and add to that the fact that I was sitting out on a farm and drinking a beer ~ Buonissimo!
There is something magical about dining al fresco, outside, during the summer. The Italians live to eat outside during the summer and all across Italy you'll see the outside dining areas packed with patrons. In Italy, since air conditioning is at a minimum, outside dining is the way to beat the heat of the kitchen. In fact, al fresco translates into "cool."
Did I enjoy the pizza? You be the judge—
"Pizza Farm" lived up to its ability to say, "That's okay, we're busy enough. You'll just have to find us."
And as I sat there finishing my pizza, the full moon started to rise above the tree line as a single tan cow found her way into the pasture. This might not have been Italy, but there sure was a lot of La Dolce Vita going on amidst those Wisconsin cornfields.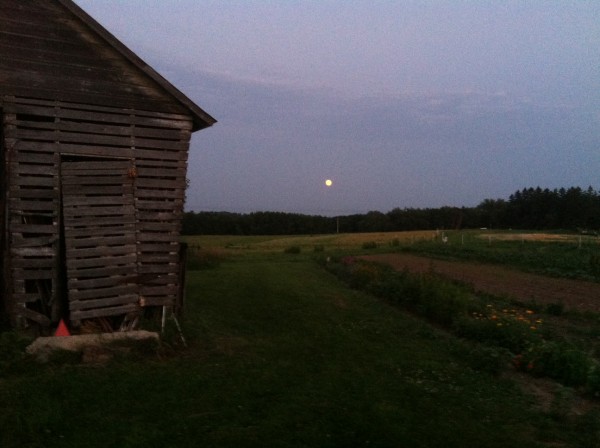 On my way out, I stopped to thank Robbi again and to assure her that I would be back—SOON!
"I look forward to it!" she said. "Have a great night."
I did indeed!
Buon Appetito~
Mark
*If you are passing through Stockholm, WI, you must stop at Stockholm Pie Company. Their pies are wonderful! At this time of year I recommend the Triple Berry Pie.  YUM!